Air Canada is Canada's largest airline, with a wide selection of flights, quality aircrafts and friendly service. They have been awarded the 'Best International Airline in North America' award multiple times and offer a selection of flight deals with Webjet. Striving to provide travelers with premium comfort, technology and innovation, they have an ever-growing fleet reflecting their motivation to be at the forefront of the aviation industry.
*Prices on this page are subject to change without notice, perform a search to view live pricing. Prices are inclusive of taxes and airline surcharges.
Webjet flight fees per booking:
Webjet Servicing Fee
: Domestic $21.95, NZ/Pacific $24.95, International $32.95.
Booking Price Guarantee
: Domestic $12.95, NZ/Pacific $14.95, International $21.95. Varying
payment fees
are included in the price breakdown on Webjet's checkout page, once your payment method has been selected.
< EMPTY POPULAR DESTINATIONS MODULE >
As a Maple Leaf Club member, traveler's can enjoy a range of benefits such as Priority Check-In and access to 230 lounges worldwide. Memberships come at an annual fee to ensure passengers are provided with refined comfort, privileges and business facilities.
In-Flight Entertainment
Air Canada offers 1000 hours worth of entertainment options onboard, with 340 movies, 500+ TV shows, 100 music and podcasts. Entertainment is available in 15 different languages.
On select North American, Caribbean and international flights, Air Canada offers Wifi to allow travelers to email, browse the web, access social channels and stream TV shows and movies during their flight. To save on costs, passengers are advised to purchase Wi-Fi prior to take-off, with subscriptions and 1-hour passes available. Travelers are also able to purchase Wi-Fi connection once on board.
Air Canada passengers are able to pre-order or purchase on board Duty free items when travelling internationally. When pre-ordering, purchases must be made at least 4 business days prior to take-off and are delivered to your seat on board. Duty-free purchases can also be made on board when departing from or arriving in Canada.
Dining
Air Canada Bistro has a wide range of meals and snacks on offer, all chosen to ensure quality and freshness. When travelling in Economy Class within North America or the Caribbean, Air Canada has hearty and nutritious breakfast options, both cold and hot meals on flights departing after 10pm and fresh Lavazza coffee, tea and juice on the house. By making your purchase prior to take-off, travelers can save up to 35%* on meals and beverages. All purchases of food and beverages made on board are payable via Visa, Mastercard and American Express credit cards.
On all direct, non-stop international flights a complimentary meal service is offered and when passengers travel on direct international flights that stop in Canada, they will be offered a complimentary meal and snack on the domestic portion of their flight.
+1 more
Economy Class
Air Canads Economy Class offers comfortable seating, complimentary beverages and menu items, and hours of entertainment.
Economy Class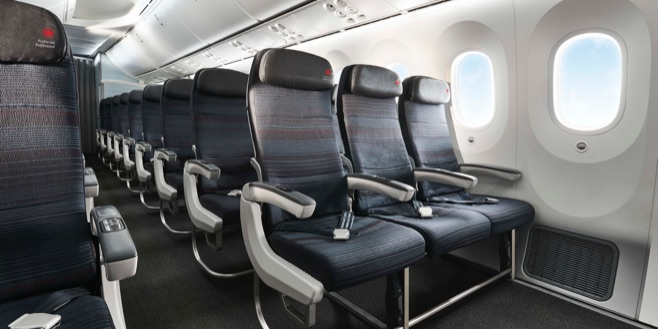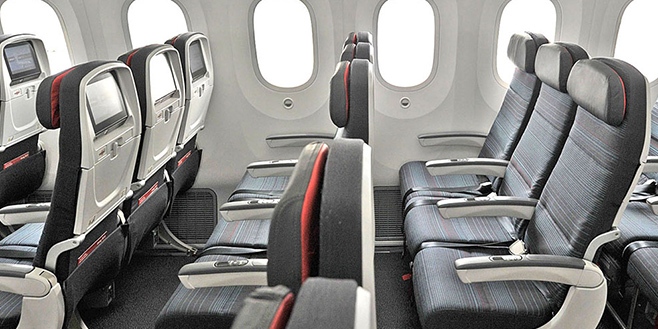 +1 more
Premium Economy
Premium Economy is offered on select Air Canada routes and features premium meal service, enhanced amenities and priority airport services.
Premium Economy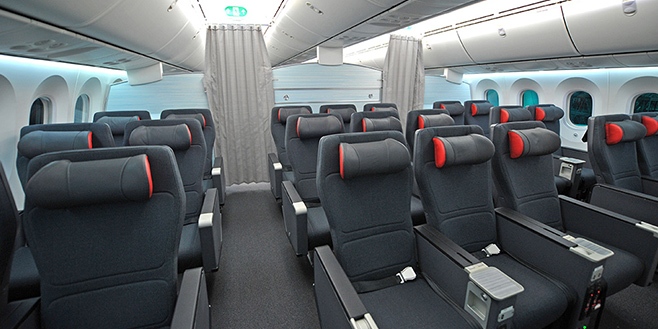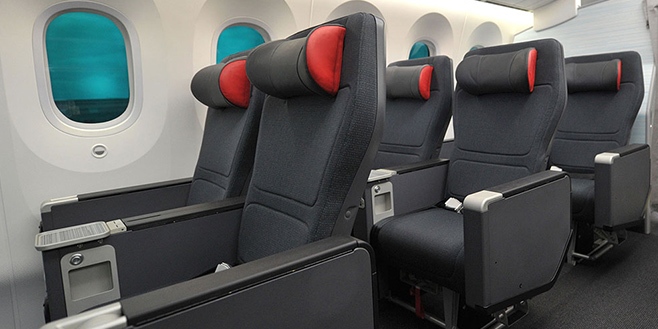 +2 more
Entertainment Options
Air Canada offers personal entertainment options to all passenegrs, with individual entertainment screens, device charging, and access to movies, tv shows and music available in all classes.
Entertainment Options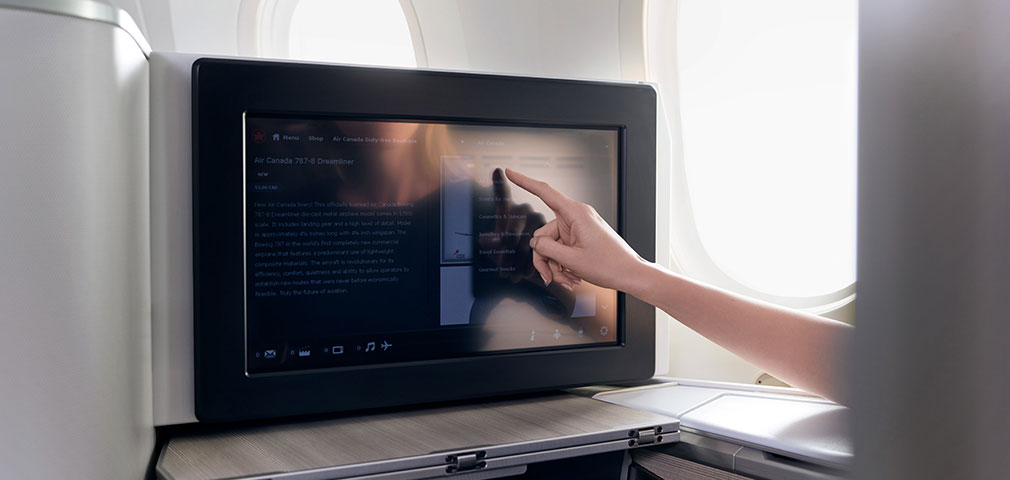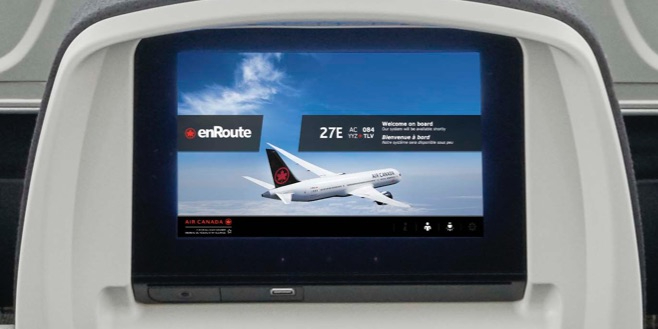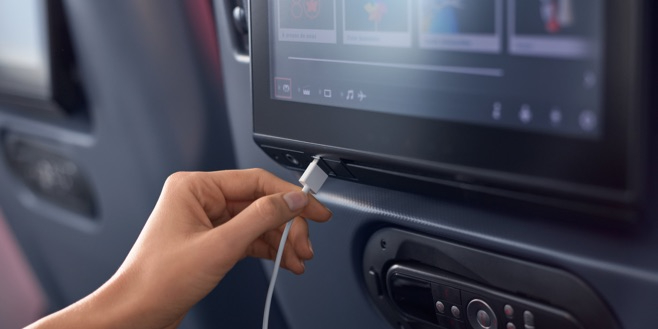 International Economy Class
The Air Canada International Economy Class experience includes complimentary wines, spirits and a selection of meals with access to hours of in-flight entertainment on a personal 8.9" touch-screen TV. Seats are equipped with adjustable, foldable headrests for a better sleeping experience and travelers are also provided with a well-sanitised, pre-packaged pillow and blanket.
The Economy Class menu consists of a pre-packed meal box with hot meal, side salad, bread roll and dessert, on select flights a mid-flight sandwich is served and for flights to Europe, hot snacks are provided. Bottled water, Lavazza coffee and black tea, a range of soft drinks and bottles of red or white wine are all included in the bar service provided by Air Canada.
International Premium Rouge
The International Premium Rouge Class experience has a number of exclusive features such as an increase in checked baggage allowance to two bags weighing up to 32 kilograms each, a larger seat with increased legroom and more recline, priority check-in and boarding and access to the wireless in-flight streaming service on a complimentary iPad.
International Premium Rouge travelers have access to premium hot meals and a selection of wine, spirits, beverages and snacks.
Signature Class
The Air Canada Signature Class experience is focused on providing passengers with a premium travel experience, available on aircrafts such as the Boeing 787, 777 and 767 aircraft and our Airbus A330 aircraft. With their own check-in counters, expedited security clearances, lounge access, exclusive boarding lanes, priority baggage handling and more, those travelling in Air Canada's Signature Class will experience a seamless airport experience.
The Signature Class cabin features executive or classic pods, with added lumbar support and massage functions which also extend into a lay-flat bed. Passengers are provided with a sanitized and clean pillow, duvet and mattress pad and a complimentary amenity kit. Travelers can also expect a CleanCare+ kit, containing masks, antiseptic wipes and hand sanitizer.
Within this service, all-inclusive meals are crafted by Air Canada's culinary partners, serving travelers with hot casserole, appetizer, salad, dessert and a bread roll, cheese and crackers. The drink service consists of bottled water, Perrier, Lavazza coffee, black tea, soft drinks, beer, red & white wine and Laurent-Perrir champagne.
Search Cheap flights on Webjet
Check out some of Webjet's other most popular airlines.
Frequently Asked Questions