Virgin Australia
Virgin Australia – Now You're Flying
Virgin Australia is committed to delivering guests a stylish and premium flying experience. With constant innovation at the heart of everything they do, their superior products and award-winning service brings a world-class experience for all their guests, and sets them apart from their competitors. So whether you're flying for business or leisure, experience the difference with Virgin Australia.
Their young fleet of stylish aircraft fly to over 45 destinations across metropolitan and regional Australia, New Zealand, Indonesia, the Pacific Islands, North America and the Middle East, taking you to more places in their unique style. Virgin Australia is also continually expanding their international network thanks to their elite group of airline alliance partners.
The second largest domestic airline in Australia with a strong reputation in customer service makes Virgin Australia an excellent choice for domestic and international flights. In 2015, Virgin Australia was awarded "Best Airline Staff Service" in the Australia/Pacific region at the Skytrax World Airline Awards for the 5th consecutive year.
To experience the difference with Virgin Australia and to ensure you're getting the very best deal on flights, use Webjet's state-of-the-art booking engine. Compare Virgin Australia and other airlines easily with Webjet. Book great value flights and save on your next holiday.
Compare Virgin Australia and other airlines easily with Webjet. Book great value flights and save on your next holiday!
Save time with Webjet and print boarding passes online and skip a step at the airport by using Webjet's online check-in service.
Everything is taken care of. Especially you.
Food, checked baggage and entertainment now complimentary on all domestic flights. No matter what time guests fly, they'll always be offered something delicious from Virgin Australia's food and beverage menu. Guests have one less thing to worry about with a checked baggage allowance of 23kg and access to hundreds of hours of movies, TV shows and music to enjoy during the flight.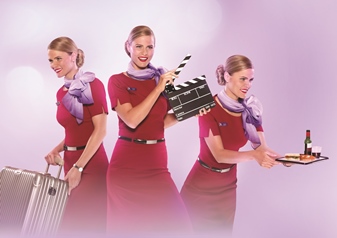 'The Business'
Introducing 'The Business'. A new world standard in domestic Business Class. Guests can experience the difference with Virgin Australia's new Business Class Suites, now available on selected Airbus A330-200 services. 'The Business' is completely adaptable to suit the guests needs providing space to multi task, privacy and direct aisle access and a fully flat bed so guests can rest and be ready to thrive on arrival. In addition, guests can indulge in a restaurant style fine dining experience whilst enjoying over 300 hours of movies, TV shows and much more on their personal state-of-the-art, high definition 16 inch touch screen.
Perth to Melbourne | Melbourne to Perth | Perth to Sydney | Sydney to Perth | Perth to Brisbane | Brisbane to Perth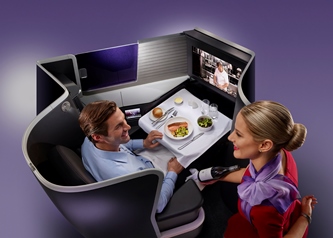 In-flight Entertainment
During the flight, all guests can enjoy complimentary access to Virgin Australia's Wireless In-flight Entertainment system on their on device. The Wireless In-flight Entertainment system provides guests with access to hundreds of hours of movies, TV shows and music streamed to their own devices, including smartphones, laptops and tablets. The system is available on Boeing 737-800 and Embraer E190 aircraft.
For more information on how to download the App and prepare your device, please visit virginaustralia.com/wireless
On Virgin Australia's Airbus A330-200 and Boeing B777-300 aircraft, Seatback In-flight Entertainment is available to all guests to enjoy with an extensive range of new release and classic movies, TV favourites, engaging games and mood-satisfying music, delivered through a touch-screen and handset-controlled system.
Flights to the Gold Coast
Virgin Australia flies to the Gold Coast from Adelaide, Canberra, Newcastle, Melbourne, Townsville and Sydney. The Gold Coast is a perfect holiday destination just a short distance from all cities in Australia. The Gold Coast is known around the world for its beautiful sandy beaches, an abundance of accommodation options, fun family theme parks and a never ending list of leisure activities.
Sydney to Gold Coast | Melbourne to Gold Coast | Perth to Gold Coast
Up to 29 Flights a Day Between Melbourne and Sydney
More Australian business and leisure travellers choose to fly with Virgin Australia between Melbourne and Sydney. Virgin Australia currently flies between Melbourne and Sydney up to 29 times per day with their award-winning friendly service and great value airfares.
Sydney to Melbourne | Melbourne to Sydney
Velocity Frequent Flyer
Make your journey an even more rewarding experience with Velocity Frequent Flyer, the award-winning loyalty program of Virgin Australia which is free to join. As a Velocity Frequent Flyer member you can earn and redeem Velocity Points and earn Status Credits on eligible flights to almost 600 destinations worldwide with Virgin Australia and Velocity's world-class airline partners. In addition, enjoy exclusive family benefits including Family Pooling which allows you to pool your family member's Velocity Points and Status Credits into one account. Earn Velocity Points everyday with Velocity's wide range of global partners across travel, accommodation and shopping online via the Velocity eStore. Become a member today at velocityfrequentflyer.com/join

Virgin Australia flights to top Australian holiday destinations
Enjoy Virgin Australia's premium and stylish flying experience to popular holiday destinations in Australia including: Ayers Rock, Byron Bay, Broome, Cairns, Hamilton Island, Gold Coast, Sunshine Coast and Whitsundays.

*Terms & Conditions:
All prices on this page are subject to change without notice. Whilst Webjet makes every effort to provide you with accurate and up-to-date information, in the event aproduct is listed at an incorrect price, whether due to typographical, photographic, or otherwise, Webjet may refuse or cancel anyorders placed for a product listed at theincorrect price
A Webjet Servicing Fee and Booking Price Guarantee applies per booking which can include multiple passengers and products.