Fly Garuda Indonesia for less with Webjet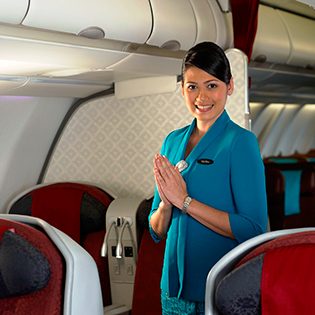 A caring smile leads the way on Garuda Indonesia
From its humble beginnings in 1949, Garuda Indonesia has transformed into Indonesia's leading carrier and continues to fly ever higher. In 2010 Garuda Indonesia launched its new service concept - the Garuda Indonesia Experience; a concept which aims to deliver authentic Indonesian hospitality for all passengers.
Garuda Indonesia is the national airline of Indonesia and currently operates as a full-service network carrier serving 33 domestic cities within Indonesia and 26 international cities throughout Australia, South-East Asia, the Middle East and Europe.
In 2009, Garuda Indonesia was awarded the prestigous four-star airline rating by SKYTRAX and more recently awarded Garuda Indonesia as the "world's most improved airline" in 2010.
Using Webjet's simple, 3-step booking engine, you can find and book a discount Garuda Indonesia flights at great prices in no time. It's simple, fast and it can save you heaps - so why not give it a try now.
Garuda Indonesia - World class inflight service
Garuda Indonesia's in-flight service is on a par with the world's best airlines and was developed in response to research into passenger preferences on specific routes. Thus every Garuda Indonesia flight, whatever its destination (European, Southwest Pacific, Asian, etc.), provides its passengers with the very best in-flight entertainment, menus and reading materials to satisfy its international clientele and the cultural and culinary preferences of passengers typically flying the route.

A pleasure doing business with Garuda Indonesia
Busy business executives will appreciate Garuda's fully appointed executive lounges with office and relaxation facilities such as Internet access, conference rooms, televisions and comfortable chairs available at several airports across Indonesia.
For those seeking even more freedom to conduct business without worrying about flight times and requirements, Garuda Indonesia's new valet service allows business class travellers to take full advantage of the executive lounge while Garuda Indonesia's friendly valet staff handle all check-in details on their behalf. It's a new, better way to do business and it's why we say: 'It's a pleasure doing business with Garuda Indonesia'.

Garuda Indonesia makes check-in simple
Garuda Indonesia's city check-in service allows passengers to check-in up to four hours before departure at counters located in 26 cities throughout Indonesia and in five international cities. This eliminates the need to arrive early at the airport to wait in the queue at the check-in line.
Book your Garuda cheap flight today with Webjet - and save!
A Webjet Servicing Fee of $29.95 and Booking Price Guarantee of $21.95 applies per booking which can include multiple passengers and products.
*Prices are subject to availability, include taxes and airline surcharges.All prices on this page are subjectto change without notice. Whilst Webjet makes every effort to provide you with accurate and up-to-dateinformation, in the event a product is listed at an incorrect price, whether due to typographical,photographic, or otherwise, Webjet may refuse or cancel any orders placed for a product listed at the incorrect price